Coutelier les Hautes-Rivières Jean-Pierre BADRE Tél : 03 24 32 83 13 
JEAN-PIERRE BADRÉ 
A blacksmith since 1987, Jean-Pierre Badré, was specialised in making special pliers and tongs and now exercises his craft making knives. He has breathed life back into the must-have Ardennes knife, the ployette folding knife. This emblematic Ardennes knife was until now just used by a handful of Ardennes hunters. All the knives are entirely hand-made, the blade is made of a forged steel of the highest quality, as for the handle it is often made of wild cherry or service-tree wood. Each one is unique, is stamped "JB" and comes with a certificate of authenticity. Jean-Pierre Bardé is at your disposal to make the model of your choice, but you are advised to phone before going to see him, especially if you are coming from a long way away.

Ebénisterie des Hauts-Buttés Jean-François HENRY Tél : 03 24 53 20 82 - page Facebook
L'Ebénisterie des Hauts Buttés - cabinetmakers Dominique and Jean François Henry design and make-to-measure your traditional oak furniture.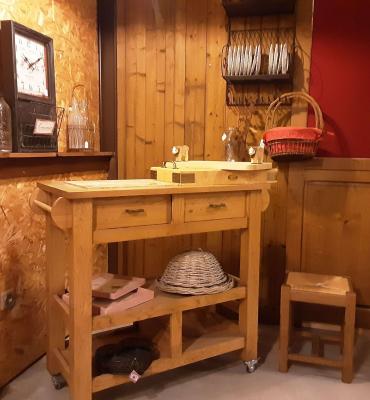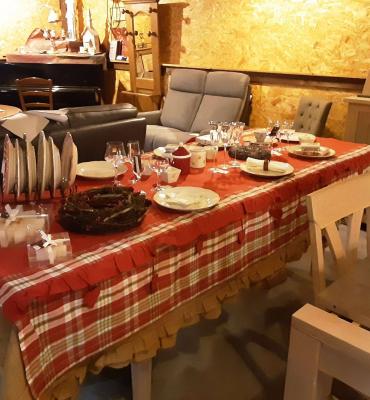 Laifour : Sculpteur Hervé TONGLET Tél : 03 24 32 64 23  
Email : herve.tonglet@sfr.fr Site : https://www.kazoart.com/fr/artiste-contemporain/1614-herve-tonglet
Hervé Tonglet began his artistic career on Place du Tertre in Paris where he was noticed, leading him to exhibit with Salvador Dali in Nice in 1973. In 1989, Belgium awarded him the Grand Prix du Prestige Européen for his entire body of work. Today, after a career lasting more than 50 years, he describes himself as an "art worker". In his studio in Laifour (Ardennes) situated on the banks of the Meuse, he gives shape and life to matter: clay, marble, wood, bronze, steel and bluestone. His preferred subjects are mythology, religion, the arts, the body and soul, love, Mankind. He refines the shapes of his subjects as much as possible through an angular style, the happy conclusion of several years' research: at last materialising the line dear to architecture thus creating these lines, giving greater strength to the idea. Light is trapped in veritable cages formed by the angles, forced to submit to the demands of the creator.

Pascal Boillet, hails from Reims and has been living in the French Ardennes at Monthermé since 1990. He is a multi-passion artist. Painter illustrator, he follows his emotional currents and impulses which he transcribes with a pencil, watercolours, oil paints, dry pastels or acrylic paint. Many are the people of Ardennes and Reims who have benefitted from his technical know-how or who take the lessons he gives in his studio in the summer, or at the "Ma Bohème" Culture and Leisure Centre in Charleville-Mézières. Pascal Boillet expresses himself in a pure, imaginary and poetic figurative style. A professional artist for 30 years, he draws and paints: nature, animals, buildings, characters and portraits. He accepts commissions in the most varied areas going from mediaeval fairy-tales to historical military painting. Pascal Boillet is also a historian-lecturer on the Great War, a writer of tales, a teller of mediaeval stories and novelist.
Illustrateur professionnel Pascal BOILLET Expositions ; Cours et Stages de dessin et peinture. Tel : 06.86.82.11.12 Email : pboillet@wanadoo.fr

Each THILLEON pen made of wood and/or resin is a unique piece of craftsmanship, French made in Monthermé in the Ardennes. Rare, noble and exceptional woods make our luxury pens reliable and much-appreciated companions. The THILLEON pen-makers propose 6 models of writing instruments: We believe in sustainable development and the preservation of our environment and make it a point of honour to ensure our creations respect these principles. Our hand-crafted products are all UNIQUE. The veining of the wood will be different for each article. The availability and production time vary according to what we have in stock and on the time required to obtain the most beautiful renderings. The THILLEON is a genuine craft product, hand-turned by a professional craftsperson. A wood THILLEON® pen means the association of a very beautiful piece of wood and a quality mechanism (9 possible platings: chrome, gold, antique bronze, antique silver, antique copper, etc.). The craftsperson selects blocks of exceptional, rare wood, usually coming from a burr knot (a rare tree trunk excrescence). In addition to the species already proposed, you can also order a custom pen with your precious wood.

Verre et Vitrail  Nicolas PEROCHE Tél : 03 24 29 79 67 / 06 30 35 90 92 Email : nicolasperoche@cegetel.net Site web
In 2007, Nicolas PEROCHE created the Centre Ardennais du Verre et du Vitrail, and began to give his training with around twenty participants. He teaches the leaded stained glass and copper foil stained glass (Tiffany method) techniques there, and also hot-glass bead work. In order to broaden the scope of his training courses, he acquired a melting furnace to allow him to develop the fusing and thermoforming techniques. It was in 2012 that he added an appreciable string to his bow: Glass Blowing. It is with a blower's furnace, a kiln, and all the necessary equipment that he began his Glassblower course, working glass at a temperature of nearly 1,200°C. "In the Middle Ages it was the Master Glassmakers who blew their glass themselves in order to make the panes they used in their stained-glass windows."